We offer world-class MVP development services
to help you launch a successful product
DEVELOPING WINNING DIGITAL PRODUCTS WITH EXPERT MVP SOFTWARE DEVELOPERS
With BestPeers, you can develop your Minimum Viable Product (MVP) and receive valuable insights into what your customers believe is viable. With us, you get the right product for your situation, along with all the feedback you need.
When you hire BestPeers to develop your Minimum Viable Product (MVP), you receive valuable insights into what is viable for your customers. We ensure you get the right product for your idea and all the feedback you need.
A prototype with exciting new features is designed, and then we encourage and respond to feedback after. Creating a scalable, flexible, and easily adjusted product from the prototype reflects market realities.
With our user-centric approach, you can gain insight into your customer's needs, so you can make changes that optimize performance, ensuring your product launches strongly and has a strong market impact.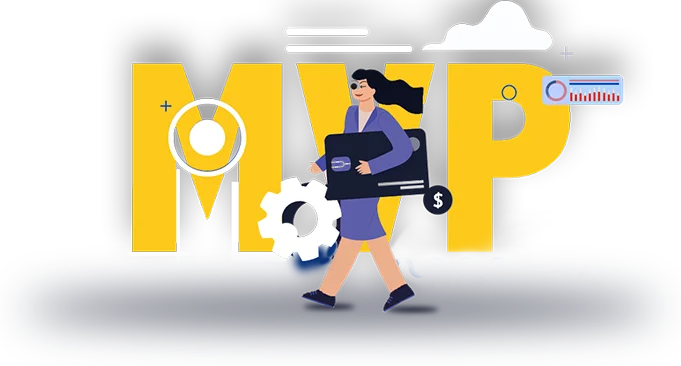 BUSINESS ANALYSIS
To achieve your company's overall goals and meet specific product needs, you want your new MVP to be launched as soon as possible. We offer agile product development at BestPeers, that are able to create quick MVPs that meet your needs. Based on the objectives, priorities, and challenges outlined in your product vision, we analyze it. By analyzing your customers, potential users, and competitors, we can integrate your product concept into your general marketing strategy to maximize your strengths and capitalize on opportunities.
Marketing Strategy
Instead of assuming user performance, BestPeers Investigates what users want. We then ensure that the roposed product is viable and meets the minimum requirements.
MVP development is one way to gain market insight into user's value, and our product facilitate that process. To build a product that excites your target market & opens the door to further discussions with them, we analyze industry requirements and user profiles to determine your target market's requirements.
STRATEGIC PLAN
We present a plan that outlines our intended course of action during the development process. Our team uses the information about your business and the collected user data to let you know how a strategic approach will result in the product you require.
Our analysis of your business plan helps you determine how MVP development fits into your plans. With our strategy, you can further your business goals while utilizing your existing capabilities and resources.
PROTOTYPE DESIGN
We build a high fidelity prototype based on your business requirements, user profiles, and preference with an angle approach. We design the prototype from the user's point of view and incorporate not more than a minimum of functionality.
Based on feedback and prototype performance, we can identify product features and functions that should be prioritized. We develop a prototype to determine the minimum functionality for viability.
PROJECT DEVELOPMENT
As part of the MVP development process, we create the product your users want, & we base our design on the functionality of the prototype and the features your users want.
We help you develop exceptional products and get to market fast. Scalable infrastructure, easy distribution, user-centric design, and the ability to expand functionality are among the characteristics of our MVPs.
PRODUCT EVOLUTION
Elegant product design and MVP development are used to meet the demands of an ever-evolving market quickly. The needs of your business and the expectations for your products will change as consumer preferences change & technology advances.
We help you to handle such changes with real world analysis and user-centric design. With the proper feedback and market intelligence, you can make a critical decisions for the best possible outcome.