Do you plan to implement software for your daily business operations? Depending on your unique requirements, you can buy a ready-made solution or develop your own. When you need a unique product, you should consider custom software development for small businesses.
Bespoke software increases business output and reduces costs because it is flexible and scalable. Therefore, it gives your enterprise a competitive edge. Let's examine the approach in more detail.

What is Custom Software Development?
Developing custom software involves designing, deploying, and maintaining software products. A unique aspect of it is the fact that it is customized to each client's business, needs, and parameters. Building a project with a specific idea and audience in mind meets your exact product requirements. Most often, bespoke software development is applied to specific and rather narrow industries. These sectors benefit from sophisticated solutions. They are able to get exactly what they need.
Here are the main stages of custom software development: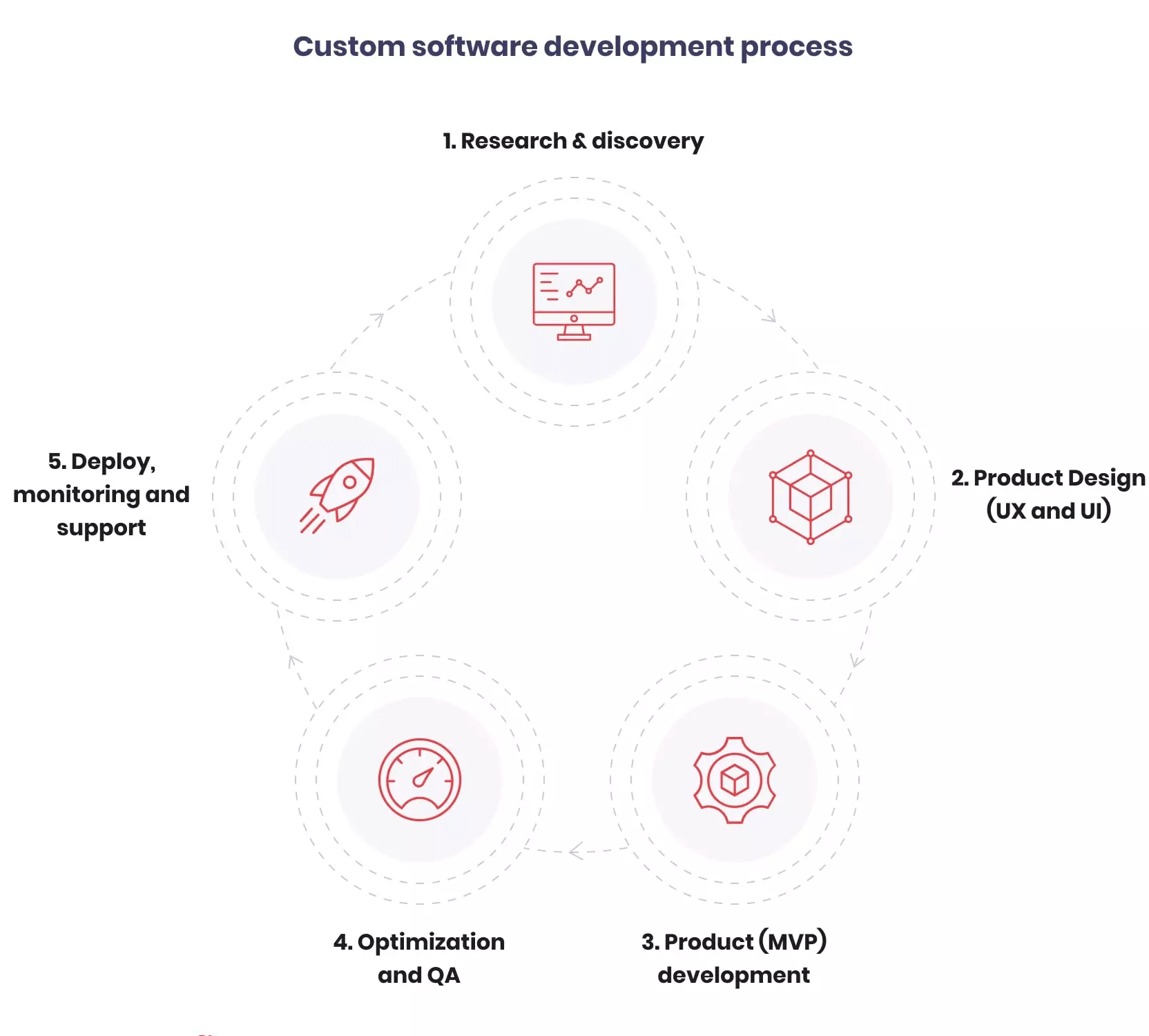 As you can see, research is the basis for building a tailored product. Stages may include interviews with stakeholders, onsite workshops, and discovery sessions. Tailor-made products increase a company's overall efficiency. This is because custom-built solutions are closely tied to business objectives.
Why implement Custom Software Development for small businesses?
Custom software development for any organization, including small businesses, is not a magic wand. Here are some things to consider before you invest: Are you compliant with specific standards of your industry or government regulations? Healthcare, finance, and education are typically the subjects of these discussions since the needs of these industries differ from the needs of other branches or organizations, e.g. storing patient data. What security rules do you have? Do you have a lot of complicated data to handle? Would you like to optimize it? Customized software development is not recommended in the following cases, however:
Lack of time
When your goal is to launch as quickly as possible, using a pre-built solution is faster and easier.
Stock solutions meet your demands
Suppose you believe that off-the-shelf platforms are capable of providing all the functions and services you need.
Limited budget
The process of starting a project from scratch can be quite complex and expensive. You can save a lot of money if a software solution with the desired functions already exists. However, in some cases, a ready-made solution may be more expensive than bespoke software. This is especially true when considering the long-term.
If you want to build a unique product with high-security standards and you do not have a lot of time to spare, you should invest in progressive tailor-made solutions. Alternatively, you can consider off-the-shelf software to launch quickly but be prepared for scalability and sustainability issues. Small businesses can benefit greatly from Custom Software Development. This article discusses the main reasons for choosing this approach.
Meet specific requirements and problems

Each company has its own needs and issues to solve. If you plan on building a product with special security requirements, for example. Perhaps you want to offer your consumers unique features that your competitors do not offer. Choosing Custom Software Development for small businesses will help meet your concerns and key needs since it goes beyond a set of generic features. A tailored product takes into account your small business's fine points and hidden risks. It is for this reason that many companies partner with custom software development companies.

Reduce costs with custom software development

Many people believe that developing a product from scratch is more expensive than using an off-the-shelf platform. Custom Software Development for small businesses is the best option when it comes to a long-term arrangement. The issue is that bespoke software development saves both time and money. With a certain set of functions, you can build some functionality. Your product will not have unnecessary features.
As a small business owner, investing in a product created specifically for your needs and goals can save you money in the long run. With Custom Software Development for small businesses, you can easily add new functionality as your business grows.

Add extra features when needed

Platforms that are ready-to-use don't always have all the functionality you need, which can become a problem in the future. Small companies or startups that are just entering the market may find off-the-shelf solutions the best choice.

Automate manual operations

If you decide to expand your business, you should realize that the number and complexity of operations will increase. Endless manual processes may become ineffective for your company's workflow. As a result, you may experience problems with automation. This is where Custom Software Development for small businesses comes in. In this way, you can manage your key processes as well as facilitate communication between departments. This includes procurement, accounting, and finance managers

Make your data secure

Cyberattacks are increasing day by day. Cybercriminals want to exploit vulnerable enterprise systems. They aim to steal intellectual property, personal data, credit card passwords, etc. Small business owners and customers suffer losses, from reputational damage to financial loss.
What are the benefits of custom software development for small businesses? You can be sure that custom software agencies:
will analyze risks;
apply best practices and standards;
deliver you a highly-secured tailor-made product.
Custom development vs packaged software
The following table compares bespoke software development and out-of-the-box development.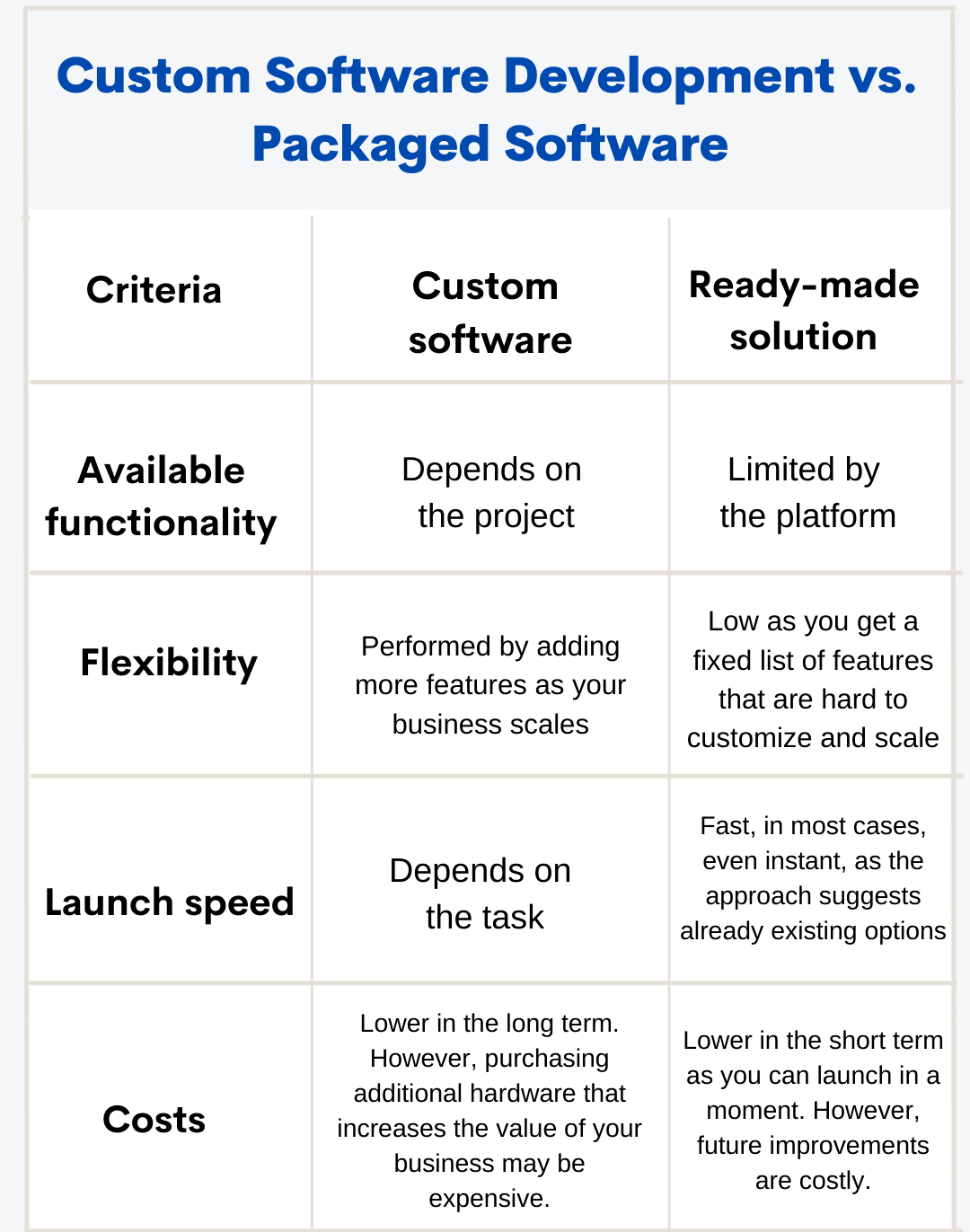 Final Thoughts
Customized solutions are designed to meet the specific needs and requirements of a company. With this approach, you get exactly what you want from your software project. Custom software development for small businesses will be a great option if you want a unique product.
These solutions scale and adapt as your project progresses. They are therefore a long-term investment for your company. We will help you deliver a reliable and fast-loading solution if you are looking for a custom software development company. Feel free to contact us to discuss your project.